Sustainable Rural Drinking Water Systems Project Results To Be Presented In September-October
Several presentations from the Exploring Solutions in Sustainable Drinking Water in Rural NL project are happening across NL Click here to learn more.
New SSHRC Projects Funded!

Two new SSHRC grants invest over 2.5 million dollars in rural resilience research! Click here for more information.
Vodden, Gibson, And Porter Published In First Among Unequals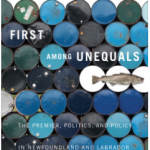 In May 2014, Kelly Vodden, Ryan Gibson and Michelle Porter had their chapter, "A Brighter Future for Whom? Rural and Regional Development in Newfoundland and Labrador" published in the book First Among Unequals. For more information, click here.