Jacqueline Walsh
Assistant Professor, Faculty of Business, Memorial University of Newfoundland, Grenfell Campus | jswalsh@grenfell.mun.ca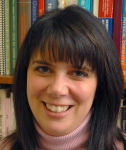 Dr. Walsh's research interests relate to her experiences working in senior management roles in small technology firms. She is currently studying the effects of intellectual property laws on the success of small software firms. As well, she is conducting research on optimal models for university-industry collaboration for the commercialization of technology.
Current Research Engagement
Asset Mapping for the Humber-Northern Peninsula-Southern Labrador Region.